Exhibition introduction

The 2020 Ninth Jiangmen Advanced Manufacturing Expo (referred to as: Jiangmen Manufacturing Expo) hosted by Guangdong Yalian Exhibition Co., Ltd. will be held in Guangdong Zhuxi International Convention and Exhibition Center from August 27 to 29. At that time, nearly 300 exhibitors from home and abroad will bring thousands of sets of high-end CNC machine tools, precision machining centers, laser equipment, intelligent packaging equipment, industrial robots and other exhibits to showcase the complete industrial chain of Industry 4.0 smart factories. It is expected to attract 20,000 exhibitors. spectators came to visit and purchase.

market background

Jiangmen is an old industrial base in Guangdong with a solid foundation for manufacturing development. It is understood that since 2019, in order to build a strong city of advanced manufacturing, promote the accelerated rise of hundreds of billions of industrial clusters, and strive to achieve a qualitative leap in economic development, Jiangmen City has built a major industrial development platform, vigorously promoted projects to start production, and upgraded enterprises. A series of effective policies and measures have been launched in terms of core competitiveness, focusing on attracting investment in key industries, and creating a good business environment, which have achieved remarkable results. According to statistics, the added value of Jiangmen's equipment manufacturing industry increased from 17.77 billion yuan in 2014 to 2018.
31.47 billion yuan, an increase of 77.1%; since 2014, investment in equipment manufacturing has nearly doubled in five years. Since 2015, Jiangmen City has signed a contract to introduce 196 projects worth more than 100 million yuan, including 43 projects with more than 1 billion yuan; the contracted investment in the introduction of projects worth more than 100 million yuan has exceeded 100 billion yuan, and the construction rate of the projects has exceeded 80%, and it has been completed in 4 years The investment is 43.18 billion yuan. In particular, the high-end equipment manufacturing industry has a good momentum of development, and a number of high-quality industrial projects have gathered in the three major fields of rail transit, ships, intelligent equipment and machine tools.

The development of the advanced equipment manufacturing industry and the transformation and upgrading of traditional industries go hand in hand. In the future, Jiangmen will plan its layout with a global vision and strategic vision, actively create a new economic growth pole on the west bank of the Pearl River, and seize the commanding heights of future economic development. This exhibition is held in response to the government's call and the huge demand of the market, to help Jiangmen area to accelerate the development of advanced equipment manufacturing industry, and to promote a new round of technological transformation of manufacturing enterprises.

Machine tool mold exhibition area

High-end CNC machine tools, precision machining centers, electric discharge machine tools, wire cutting machine tools, high-precision punching machines, high-precision grinding machines; precision mold manufacturing, mold accessories, mold materials, knives, measuring tools, fixtures and machine tool accessories, machinery accessories, machinery parts wait.

Automation and Robotics Exhibition Area

Industrial control automation, non-standard automation equipment, industrial robots, artificial intelligence, machine vision, overall industry 4.0 solutions, industrial design and applications, etc.

Smart Equipment Exhibition Area

Intelligent manufacturing equipment, 3D printing, intelligent packaging equipment, green printing equipment, energy-saving and environmental protection equipment, intelligent logistics, intelligent factory, etc.

Laser and welding and cutting exhibition area

Laser processing equipment, engraving machine/marking machine, laser; arc welding, resistance welding, intelligent welding equipment, etc.; CNC cutting machine, plasma cutting machine, laser cutting machine, welding equipment, tools, etc.

Exhibits

JASD series AC servo system

JASD series general servo drives adopt advanced motor control dedicated DSP chip, large-scale programmable gate array (FPGA) and IPM power module. Through the optimized PID control algorithm, the full digital control of position, speed and torque accuracy is realized, which has the advantages of high precision and fast response. At the same time, it supports motors with 2500-line incremental encoders and 17-bit, 20-bit, and 23-bit high-precision absolute encoders, with a power range of 100W-3KW to meet different requirements for customer performance. Widely used in automation fields such as CNC machine tools, printing and packaging machinery, textile machinery, robots, and automated production lines.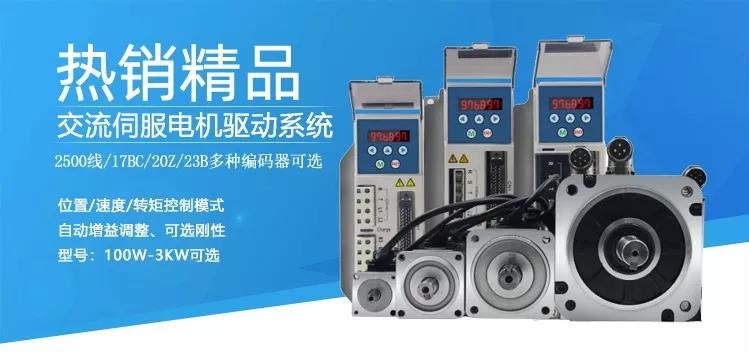 Integrated AC servo motor

The iHSV integrated AC servo drive motor integrates the AC servo drive into the servo motor, the two are perfectly integrated, and the vector control designed and produced by DSP has the advantages of low cost, fully closed loop, full digital, low heat generation, small vibration and fast response, etc. features. Including adjustable three feedback loop control (position loop, speed loop and current loop), stable performance,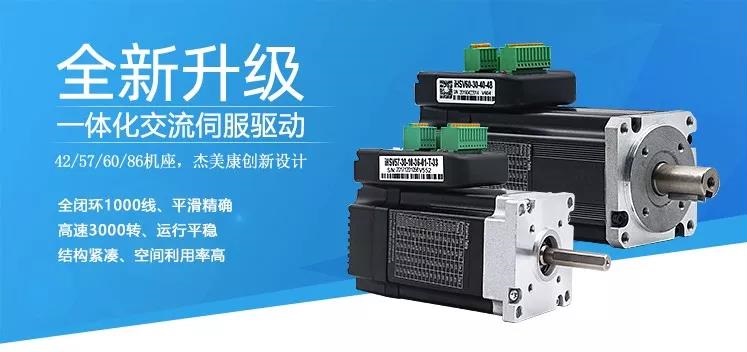 Digital Stepper Driver

Controlled by the latest 32-bit ARM processor. This digital driver is equipped with subdivision, current and auxiliary function dial codes. Users can freely set according to their needs. The advanced drive control algorithm is written internally, which can ensure the precise and stable operation of the stepper motor at various speeds. Among them, the built-in subdivision algorithm, It can make the motor run smoothly at low speed; the medium and high speed torque compensation algorithm can maximize the torque of the motor at medium and high speed.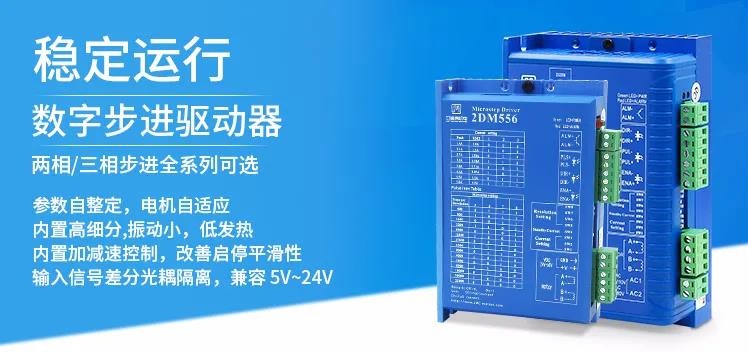 Hybrid stepping servo system

The hybrid stepping servo drive system integrates servo control technology in the digital stepping drive. The product uses an optical encoder to sample position feedback at high speed every 50 microseconds.
The position deviation can be corrected immediately. This product is compatible with the dual advantages of stepping technology and servo technology. It has the characteristics of low heat generation, small vibration, and fast acceleration. It is a motion control with high cost performance.
product.